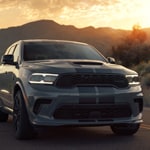 The Dodge Durango here at Mann Chrysler Dodge Jeep RAM Mt. Sterling has a variety of fuel-saving options. Standard on all of its powertrains is an ECO mode, which forces you to drive more sparingly, whether on smooth roads or plains in Mt. Sterling, KY. The 8-speed automatic transmission in your SUV will be delayed in shifting up and down in order to save you money on gas.
Additional fuel-saving technology is available on the 5.7-liter HEMI V8 engine-equipped Dodge Durango, thanks to the Variable Valve Timing (VVT), which allows the eight-speed automatic transmission to control when the engine's four cylinders are turned on or off based on demand. Only the correct amount of fuel is used at a time, thanks to this technique.
The standard Dodge Durango STOP/START features cut pollution while also saving fuel. The SUV will shut off the engine if it comes to a complete stop, especially in busy traffic. The car will start on its own the moment your foot touches the pedal.