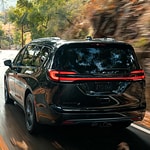 We at Mann Chrysler Dodge Jeep RAM Mt. Sterling in Mt. Sterling, KY know how much everyone has loved the 2022 Chrysler Pacifica's design. Gently sloping curves, its hood creates an aerodynamic and aesthetic effect. The roof rails flank both sides of the roof, forming a distinct barrier and a perfect place to mount. Check out the optional matte-black rims, too. They've added a touch of sleek style that's impossible to emulate.
On the front, a uniquely-designed fascia captures your attention, highlighting its headlights. That's what's made the grille stand out so sharply against the rest of the vehicle's front. Plus, the large, rectangular windows complement its angled appearance.
A powerlift tailgate has a ton of functionality, packed into an elegant form. Fine chrome accents surround the Chrysler Pacifica's features, too. Creating stylish exteriors has always been Chrysler's specialty, featured prominently in the Chrysler Pacifica. You'll even have 7 color options to choose from if you're ordering one of them from the factory.